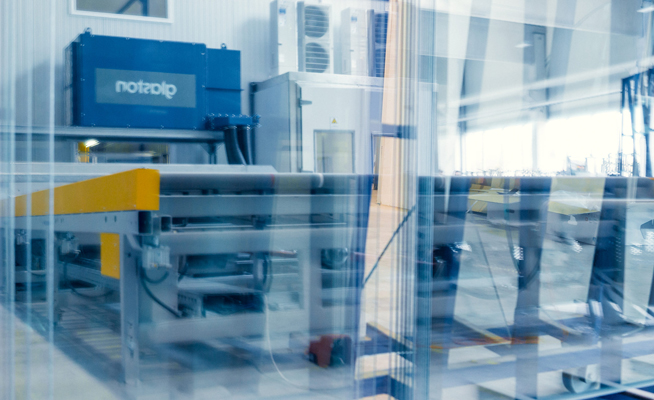 A laminating line is rarely the largest energy consumer in the glass processing factory. However, with some process adjustments and modern technology, significant savings can still be achieved. Glaston offers some advice about how the lamination furnace and everything linked to it can be made much more energy efficient.
Option 1: Furnace modernization
The easiest way to save energy in the glass lamination process is to upgrade from a traditional infrared heater furnace to full convection technology.
Upgrading to a new furnace only requires downtime of just a couple of days. Afterwards, processors usually report energy savings of at least 50%. With today's energy prices, this can easily amount to tens of thousands of euros in annual energy savings.
Upgrading a furnace is also a quick and efficient way to gain multiple other benefits, such as increased capacity, better output quality and yield, fewer maintenance needs and higher uptime.
Why is full convection more efficient than infrared heating with assistive convection?
In order to run Low-E glasses, even infrared furnaces usually have assistive convection to produce. However, this is not the same as full convection that offers much better energy efficiency.
Let's see why full convection is so much more efficient than furnaces with combined infrared and convection.
Air recirculation
In a traditional line, air often needs to be vented out of the furnace to prevent overheating. This is especially true with Low-E glasses that reflect infrared heat from the top back to the furnace. This vented energy is simply wasted.
With full convection technology, energy losses are minimized. In fact, the same air is recirculated inside the furnace. Only the required amount of energy to keep the furnace temperature stable is added when the glass is processed.
Minimal product changeover times
Conventional infrared-based furnaces require operators to spend time changing process parameters between shifts. Equipment idles during this time, leading to energy losses.
A modern full convection furnace offers a very stable process with minimal product changeover time. Process temperatures do not need to be changed for different glass types. This saves considerable time and energy. Additionally, it increases production capacity and yield. Increasing yield is also a significant factor in reducing total energy usage, as any remakes require re-doing all the process steps before lamination as well.
Option 2: Technical process adjustments
Process efficiency
Is your production process as efficient as possible? Even when your line is idling, multiple devices, such as washing machines, cleanroom air conditioning, furnace and many others, are still running in the background.
If you can optimize your production flow to avoid idling, you'll also achieve lower energy consumption per processed square meter.
Insulation
High-quality furnace insulation is essential to avoid energy losses. Check whether there are any insulation issues with your line.
Cleanroom air conditioning
Make sure you have the temperature and humidity of your cleanroom air conditioning set within the limits outlined by your interlayer supplier. If you're keeping your cleanroom significantly cooler than necessary, this adjustment can save some energy.
Autoclaving
Make sure your autoclave is loaded as efficiently as possible – but be sure to avoid overloading. To avoid quality issues, check that you're leaving enough room for airflow.
Washing machine
Check the water temperature in your washing machine. Can you still achieve good washing quality with slightly cooler water?
Summary
Just as we are changing habits and modernizing our homes by replacing traditional light bulbs with more modern and energy-efficient alternatives, we should take the same approach even more proactively at our industrial facilities.
While it is not always possible to reduce how much your production equipment is used, there are always ways to use them more efficiently, lowering costs and minimizing environmental impact.
The good news for glass lamination is that there truly are some easy upgrade options to help us use less energy.